Cason and Jason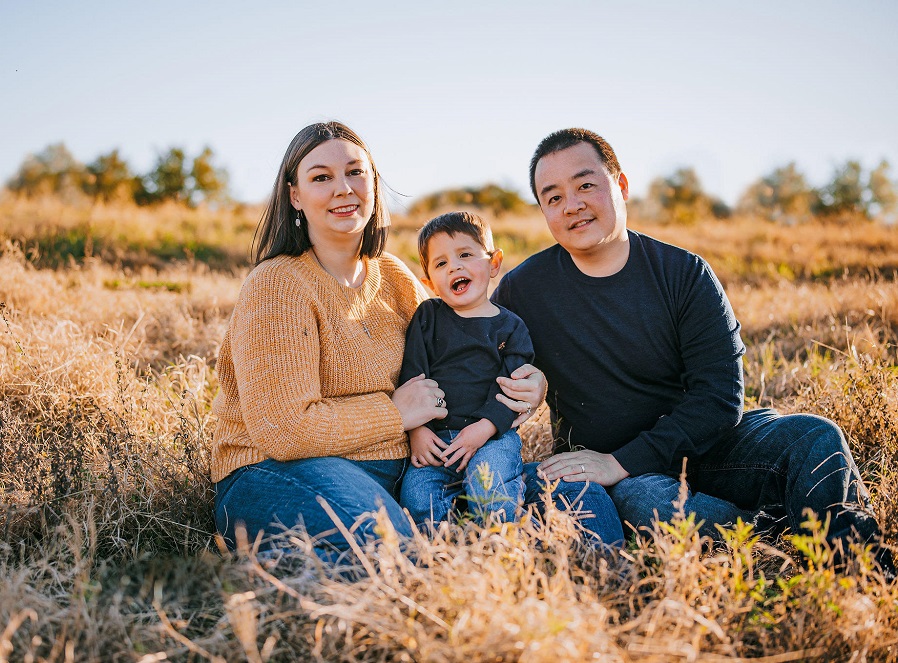 Hello! We are Cason and Jason. We met in college in 2002 and started dating in 2004. We were married in 2006 and just celebrated our 14th wedding anniversary. Our son, Gabe, is four years old and we were blessed to adopt him with the help of AIM in 2016. We are hoping to grow our family again through adoption.
Jason is a data analyst and Cason is a telecom consultant who works part time. Her part time schedule means Gabe spends more time at home and isn't in daycare full time.
Adoption was never plan B for us. We've known since before we were married that Cason would not be able to have biological children so we've always planned on adoption to grow our family.
We both have large families that we love spending time with, especially at the holidays. We are involved in our church and have a loving and supportive church family. Jason loves to cook and we host dinner parties for our friends. We enjoy spending time together as a family visiting museums, parks, or the zoo.
We look forward to meeting you. We pray for peace for you as you explore the options for your child. Our hearts and lives are open and ready to give your child unconditional love.
---
Wade, Cathy and Gabriel
We are Wade and Cathy. We have been married for seven years and have built a marriage based on Christian values: faith, hope and love.
We were blessed to adopt Gabriel in 2018 and are ready to grow our family once again! We both come from large families that are full of faith, love and traditions. We imagine our children going with us to church on Sundays, praying before dinner every night, playing with cousins at birthday parties, doing homework at the kitchen table, taking walks around the neighborhood, going to their first Astros' game, and enjoying many family traditions. When visiting family in south Texas, we see our children playing on the beach at South Padre and playing Loteria with great grandmother and cousins. When visiting family in Louisiana, we see our children catching Mardi Gras beads at a parade and eating Cajun food. We are so excited about the future and becoming a family of four!
---
Adam and Lauren
Hello! We are the Lee Family: Adam, Lauren, and Booker.  We have been married about 5 years, and we live in Huffman, Texas right by Lake Houston, for the last 3.  We have loved having access to parks and the lake with a bit of a slower life style right next to a very diverse community where we spend most of our time, in Atascocita.
Adam is an outside salesman for McCoy's Building Supply. He loves meeting new people and working with them to build homes. Lauren is a "retired" teacher, now a full time stay-at-home mom who teaches ESL and serves with our church.  Booker is a happy boy who loves all kinds of cars, exploring, and helping Mama. We all enjoy spending time outdoors going to parks and walking, and spending time with cousins and grandparents who live nearby.
We have always wanted to grow our family through adoption, so a few years after we were married we started working with AIM Adoptions, and Booker joined the Lee family in 2019.  As Booker has grown, we realized our family is not yet complete, and we are ready to grow to a family of 4.
We are hopeful to grow our family, to increase the love that we have to share with another child and their first family.  Booker has been learning to help care for a new baby, too, though he still pushes his "maemy" (baby) down the slide a little fast.
---
---
Zachary and Jessica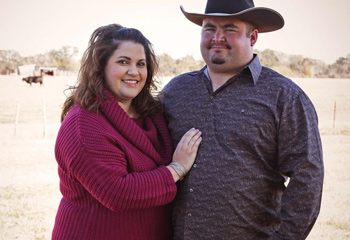 Hello! We are Zachary and Jessica. We have been together for the past 12 years and have been married 7 of those 12 years. We live in beautiful Huntsville, Texas with our 4 dogs on our 20-acre farm where we raise cattle and are very active in the local farmers markets!
Zachary works in the jail division for the Walker County Sheriffs Office and Jessica works for the City of Huntsville in the Tourism and Economic Development department. We enjoy spending time outdoors! You can always catch us playing with "the pups", working on our farm, fishing on the nearby Lake Conroe, or hunting on our 240-acre hunting property in Leon County! We both have big, close-knit families and we love spending time with them!
---
Katherine and Daniel
Hello! We are Katherine and Daniel.  We have been married for 5 years, and we live with our two dogs in Pearland, Texas.  Our pups are Shiba Inus and their names are Oji and Momo.

Katherine is a music teacher currently teaching elementary music but has also taught Middle School Choir. She puts her whole heart into her job and wants to make a difference and enrich the lives of her students. Daniel is a police officer.  He sees his job as a chance to give back to the community as well as help those in need.  We both do CrossFit and Katherine is a coach at our local CrossFit gym. We all enjoy spending time going to parks and walking, playing board games/card games, and spending time with friends and family who live nearby.

We have always wanted to grow our family through adoption, this was something we discussed before we ever got married.  Daniel is adopted and he knows what a gift it was for his birth mother to make that choice for him to be adopted.

We look forward to starting our family.

---
---
Couples who have been placed!
Court and Kelly
Michael and Lauren
Pavan and Ashlee
Jeremy and Amanda
Austin and Jen
Amy and Aaron
Aaron and Laura Beth
Jake and Katie

Eric and Ruby
Rob and Amye
Katie and Shern
Karen and Brandon
Emily and Curt
Javier and Cheryl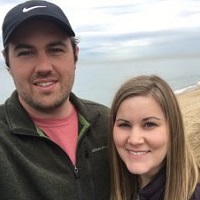 Adam and Jenna

Lauren and Adam

Trevor and Molly
Matt and Laure
William and Maryanne
Trey and Tiffany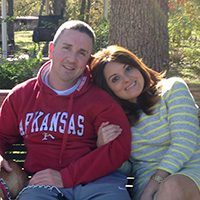 Jason and Lori

Cathy and Wade

Chris and Kathryn
Austin and Ellen