Adam and Jenna
We are Adam & Jenna, and we have been married for 5 1/2 years. We are each other's best friend and have centered our marriage around Christ. Our home is filled with love and lots of laughter! We are hopeful to grow our family through adoption and can't wait to meet the sweet baby that God has planned for us! We have always desired to have children and become parents together. After dealing with infertility for about 3 years, we felt very clearly that God has called us to adopt rather than pursue fertility treatments. We are so thankful to you for taking the time to learn about who we are and for considering us to become loving parents to your child.
We love spending time with our many nieces and nephews, traveling with friends and family, and trips to the park with our two sweet Labrador Retrievers. We are both from the Houston area and we are so grateful to live close to our families.
Adam is a Teacher and Coach and Jenna is a Speech-Language Pathologist. We both love what we do and enjoy working with students! We also both enjoy serving in the kid's ministry at our church.
Our prayer for you is that you would feel the love and peace of Jesus as you journey through this process. We honor your courage and admire your strength. Our child will always know they are deeply loved by their birthmother.
---
Amy and Aaron
Dear Expectant Parents,
We have been praying that God will bless you as you make the decision that is best for you and your baby. In whatever decision you make, whether to parent or place your baby for adoption, we pray that God will honor and bless your choice. If you do choose to place your child for adoption, we would be honored to welcome him or her into our family with love and joy.
We have been married since November 2014 and live in a suburb just west of Houston. Aaron is a mechanical engineer at a manufacturing company and Amy is an attorney at a university in Houston. Our desire, first and foremost, is to raise any children that we are blessed with to love the Lord. We are both active in our church, Aaron in the AV ministry and Amy in the children's ministry. Education is also very important to us, and we will strive to give our children every opportunity to reach their full potential. We both have loving, supportive families and enjoy spending time with them whenever we get the chance. We enjoy taking long walks, watching movies, bowling and taking trips together. We also have a little terrier mix named Rusty who keeps us on our toes! Thank you for taking the time to learn more about us, and we will continue to pray that God will guide and bless you.
---
Cathy and Wade
We are Wade and Cathy. We have been married for over 4 years and have built a marriage based on Christian values: faith, hope and love. From the time we met, we have always talked about expanding our family. We have struggled with infertility and we have never imagined our lives without children. We believe that God has led us to AIM and adoption.
We both come from large families that are full of faith, love and traditions. We imagine our child going with us to church on Sundays, praying before dinner every night, playing with cousins at birthday parties, doing homework at the kitchen table, taking walks around the neighborhood, going to their first Astros' game, and enjoying many family traditions. When visiting family in south Texas, we see our child playing on the beach at South Padre and playing Loteria with great grandmother and cousins. When visiting family in Louisiana, we see our child catching Mardi Gras beads at a parade and eating Cajun food.
Please know that we continue to pray for you and all birthmoms, as you continue consider adoption for your child. We look forward to our adoption journey and will forever be grateful to the birthmom that chooses us. We promise you that our child will always know about the unconditional love their birthmother has for them. ~~Wade and Cathy
---
Couples who have been placed!
Jeremy and Amanda
Austin and Jen
Emily and Curt
Javier and Cheryl
Trey and Tiffany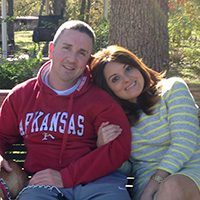 Jason and Lori