Michael, Lauren, and Lincoln
We are so excited to grow our family through adoption with AIM's again.  Michael is a paramedic "In-Charge" (responsible for his ambulance and everything that happens on it) for MCHD.  Lauren is a Kindergarten teacher who stays at home with Lincoln now.  Lincoln is a blessing!  He is fun, loving and affectionate, strong-willed, enjoys singing, loves to play outside, swing, and play with cars.  He is ready to become a big brother.

We love going on adventures as a family and spending time with our family and friends.  We love to explore and be outdoors.  Whether that means hiking in our neighborhood or going on vacations.  We love to discover new places and revisit favorite places.  We have enjoyed making these memories with Lincoln and look forward to making more.

We have an open adoption with Lincoln's birth mamma and love her greatly!  We hope to have an open adoption with you as well.

We are praying for you and thank you for this precious gift.  We always want your child to know where they come from and the great love you have for him or her.  Your child will be loved by many and grow up in a community where they are loved beyond words and actions by us, our families, and friends.  We are looking forward to meeting you and getting to know you!

With love and admiration, Michael and Lauren

---
Aaron and Laura Beth
We are Aaron and Laura Beth. We began dating in 2004, and quickly realized that we wanted to spend the rest of our lives together. We moved to Houston to start our life together and were married in 2007. Even before we were married we knew that we wanted to grow our family. After several years of infertility issues, we realized God had a different plan for us than our own.  After lots of prayer, we felt called to grow our family through adoption.

We love sports and attending sporting events, spending time with our family and friends and our sweet dog, Molly. We both come from families who are very close, loving and excited for us to grow our family.

Every night we pray for you, even though we do not know you just yet. We pray for peace for you as you make this difficult decision, we pray that you know your child will be loved unconditionally by us and we pray that you know you will always hold a special place in our heart.

---
Court and Kelley
Hi, we are Court and Kelley and are excited and blessed to be expanding our family through adoption. 
We have been married for 13 years and have a 10-year-old son. We live inside the Houston inner loop and love having access to the zoo, museums and sporting events, especially Astros games.
Court is a remediation project manager for oil and gas company and Kelley is a pharmacist at a large hospital in the Medical Center. We love spending time together as a family whether it is camping at a state park, snorkeling in the Caribbean or hanging out at the little league fields watching our son play ball.
We thank you for learning a little about us and know that our hearts are open and ready to love.
---
Pavan and Ashlee
We're Pavan and Ashlee. We're not just spouses but best friends. We dated for 5 years and have been married for almost 10 years. Our marriage has been filled with laughter, love 
and adventure. Pavan is known as the smart, jokester and Ashlee is known as the sensitive, caring one. We are the perfect balance to one another.
Pavan has a doctorate degree and works as a scientist while Ashlee works from home as a fundraiser for a nonprofit organization that helps children. We have two cats, Neema and Finlay. We have 1 niece, 2 nephews and numerous friend's kids that call us Aunt Ashlee and Uncle P Dawg (of course, Pavan has to pick a goofy name!)
We live in a 5 bedroom, 4.5 bath home on a quiet street in a family friendly neighborhood. We are walking distance from the community pool and elementary school. And there are lots of young kids always running and playing in our cul-de-sac.
In our free time, we love to watch movies, visit museums, try new restaurants, travel, and surround ourselves with friends and family. We can't wait to have a child to enjoy all of these life adventures with.
Every night, we pray for the health and well being of the mother of our future child. We hope that God helps you find peace and comfort in your decision to place your child up for adoption.
---
Karen and Brandon
We have been married for 10 years and have two boys. We talked about adoption before we got married and know that God has called us to this journey. We can not wait to meet the child He has chosen for us.
We enjoy sports, playing board games, Disney, Legos, riding bikes and dressing up as a family for Halloween. All four of us are excited to love and welcome another baby into our family.
---
Chris and Kathryn
Hi!  We are Chris and Kathryn, and we are re
ally excited about the opportunity to add to our family through adoption.  We have been married for 13 years and have been living in the Houston area for 12 years. Our son Drew is 4 years old.
Chris is an engineer for a major oil and gas company, and Kathryn is an accountant but now a stay-at-home mom.  Drew is a soccer player, a Star Wars fanatic, a self-proclaimed future bull rider, and, most of all, wants nothing more than to be a big brother.  We love being active as a family. You can typically find us at a park, at an Astros game, checking out the zoo, or even just hanging out in our front yard with friends and neighbors.  We also love family vacations to the beach, mountains, Disney World or anything in between.
We are ready and waiting to open our arms to a baby through the blessing of adoption.  We admire your courage as you make difficult decisions throughout this process. Our hope for you is that you continue to be led toward the decision that is best for you.  Thank you for taking the time to consider us as a part of your journey.
---
Eric and Rubi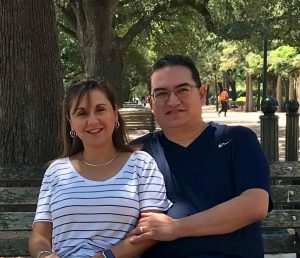 We are Eric and Rubi Salinas. Our story began when we met on a blind date in 2003. We will be celebrating our 14th wedding anniversary in June. Eric is an accountant and Rubi is an educational diagnostician. We are best friends and can tell each other anything as well as depend on one another for love and support through the good times as well as the difficult ones. We have a home full of love and it would be such a blessing for us to share it with the child the Lord has planned for us through adoption. We are praying for the mother of this child that the Lord guides her and gives her the peace and strength she needs to make the decision that is best for her and her child. 
We have been wanting children since early in our marriage. We could not have children of our own because of infertility issues. We have been praying for several years for guidance on which path to take. The Lord has put it in our heart, leading us and opening the door to adopt in order to expand our family. The child will grow up in a stable home full of love, support and much laughter. But I think, most importantly, our little one will be raised in a home that loves the Lord. We are both very involved in Church where we serve in the Awana children's ministry.
We are blessed to have a large close-knit family. We were both brought up in the same hometown and have similar upbringings. We came from loving and nurturing homes where we were encouraged to love and support each other and to not take ourselves so seriously.
We look forward to making memories with our own child taking them on vacations and camping trips to state parks or to the island in their grandparent's RV. Traveling to Cowboys, Texans and Astro games with their 7 cousins, grandmother and aunts and uncles. We look forward to teaching them scripture and taking them to piano lessons, their sport activities or any other interests they may have a passion for. Mostly, we look forwardto just being at home with our child watching movies, reading books, listening to music, playing in the back yard and seeing them play with their dog Dallas and 2 cats Roger and Sasha.  
I know we don't know you yet but I can say that you will forever have a special place in our heart and lives. We look forward to meeting you and just want you to know that we will always let our child know how loved and special they are to you.
Sincerely, Eric & Rubi
---
Adam and Lauren

Hello! We are Adam and Lauren. We have been married 2 and a half years and we are so excited to have the opportunity to build our family through adoption. We live in Huffman Texas right by Lake Houston. We have loved having access to parks and the lake with a bit of a slower life style.

Adam is a outside salesman for McCoy's building supply. He loves meeting new people and working with them. Lauren is a 3rd grade teacher in a small town. We love to spend time outdoors, play games, and travel.

We are so excited to meet our birth mother and child!
---
Couples who have been placed!
Jeremy and Amanda
Austin and Jen
Amy and Aaron
Emily and Curt
Javier and Cheryl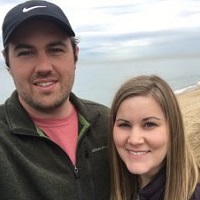 Adam and Jenna
Trey and Tiffany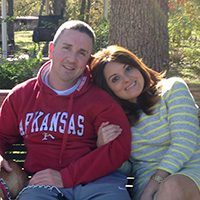 Jason and Lori

Cathy and Wade